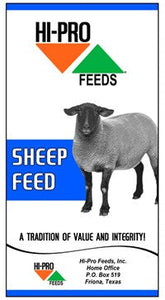 Hi-Pro Feeds Lamb Grower 2000 (Medicated)
---
---
Lamb Grower 2000 is a palatable lamb ration with 15% crude protein formulated for fast growing lambs, medicated with Decoquinate to prevent coccidiosis.
| | |
| --- | --- |
| Features: | Benefits: |
| 15.5% Crude Protein Level | Provides a sufficient source of crude protein for lambs to grow muscle tissue at a time when they are most efficient at building muscle mass. |
| Elevated Fiber Level | Highly palatable roughage sources that help to maintain rumen efficiency. |
| Yeast Culture | Beneficial to rumen microorganisms helping to increase fiber digestibility and maintain rumen pH. |
| Decoquinate | Safe and effective ingredient to help control coccidiosis in young lambs; not toxic to non-ruminant animals. |
Feed 0.60 pounds per head per day for each 30 pounds of body weight. Dose rate for Decoquinate is 22.7mg/100 pounds of body weight. Adjust the feeding rate according to the weight of animals being fed. Provide plenty of fresh water to drink at all times.

Active Drug Ingredient:
| | |
| --- | --- |
| Decoquinate | 23 grams per ton |
| | | | |
| --- | --- | --- | --- |
| Crude Protein (min) (This includes not more than 1.04% equivalent protein from non-protein nitrogen.) | 15.0% | Phosphorous (min) | 0.3% |
| Crude Fat (min) | 4.0% | Potassium (min) | 1.2% |
| Crude Fiber (max) | 12.5 % | Salt (min) | 0.4% |
| Calcium (min) | 1.0% | Salt (max) | 0.9% |
| Calcium (max) | 1.2% | Selenium (min) | 0.2 ppm |
| | | Vitamin A (min) | 5,000 IU/lb |
---
We Also Recommend